The Foundation for Psychocultural Research and UCLA presented An Interdisciplinary Symposium on Trauma, Culture, and the Brain
Post Traumatic Stress Disorder: Biological, Clinical and Cultural Approaches to Trauma's Effects
Dec. 13-15, 2002
For more information, and ongoing updates and continuing discussion on this subject, please visit http://www.ptsdconference.org/
The Interdisciplinary symposium on trauma, culture and the brain jointly sponsored by The Foundation for Psychocultural Research and The Brain Research and Neuropsychiatric Institutes and Anxiety Project at the University of California, Los Angeles (UCLA)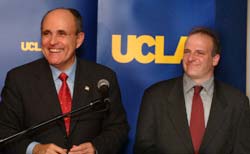 L-R: Rudolph Giuliani (Former New York City Mayor) & Robert Lemelson (President of The FPR; Departments of Psychology and Anthropology, UCLA)
Profound effects of traumatic experiences persist long after the horrifying events themselves. The tragedy of September 11, 2001 testifies to this and underscores the importance of understanding the ways in which trauma shapes and is shaped by our culture and biology. Integrating cultural, clinical, and biological perspectives, UCLA's Brain Research and Neuropsychiatric Institutes, the UCLA Anxiety Project and the Foundation for Psychocultural Research (FPR) cosponsored an interdisciplinary conference in December 2002 to examine posttraumatic stress disorder and other human responses to traumatic events.
This three-day symposium thoroughly examined the human response to trauma in the cultural, clinical, and biological domains. On Day 1,we examined knowledge about responses to trauma. On Day 2, we focused on the effect that traumatic events have on development of and future vulnerability to psychopathology. Finally, on Day 3 we explored therapeutic issues in the treatment of individuals suffering from the effects of trauma. Each day included presentations from basic scientists, from clinicians and clinical researchers, and from social scientists. In addition, several New York City officials such as Rosemary O'Keefe and Richard Sheirer who dealt with the effects of 9/11, discussed some of the formidable public policy and public health challenges of such disasters. Each day speakers also participated in an open roundtable discussion at the end of the day , which integrated the perspectives of the different levels of analysis in response to questions from the audience, and from each other. This conference was designed to break down the barriers that traditionally cordon off academic disciplines and to challenge the notion that a single approach can be sufficient to understand the complex human effects of major traumatic experiences. To this end, the conference included a poster session featuring recent research on trauma.
CONFERENCE ORGANIZERS:
Robert Lemelson, Ph.D.
President, The Foundation for Psychocultural Research
Lecturer, Department of Psychology, UCLA
Allan Tobin, Ph.D.
Director, Brain Research Institute, UCLA
SPEAKERS AND SESSION CHAIRS:
Keynote Speaker
Rudolph Giuliani, Former NYC Mayor
Openning Remark
Claudia Mitchell-Kernan, UCLA
Basic Sciences
Neurobiological aspects of fear, anxiety, and trauma
Mark Barad, UCLA
Mark Bouton, University of Vermont
Larry Cahill, University of California, Irvine
Christopher Coe, University of Wisconsin
Michael Davis, Emory University
Michael Fanselow, UCLA
Emeran Mayer, UCLA
Michael Meaney, McGill University
Gregory Quirk, Ponce School of Medicine
Stephen Suomi, NICHD
Clinical
Human response to traumatic events and therapeutic issues of trauma-related disorders
J. Douglas Bremner, Emory University
Dennis Charney, NIMH
Edna Foa, University of Pennsylvania
David Kinzie, Oregon HSU
Bessel van der Kolk, The Trauma Center and Boston University
Charles Marmar, UC San Francisco
Robert Pynoos, UCLA
Arieh Shalev, Hadassah University
Rachel Yehuda, Mt. Sinai School of Medicine and Bronx Veteran Affairs
Cultural
Trauma's effects across cultures
James Boehnlein, Oregon HSU
Leslie Dwyer, Visiting Fellow, UCLA
Bryon Good, Harvard University
Alexander Hinton, Rutgers University
Laurence Kirmayer, McGill University
Melvin Konner, Emory University
Robert Lifton, Harvard Medical School
Mark S. Micale, University of Illinois, Urbana-Champaign
Degung Santikarma, Visiting Fellow, UCLA
Nancy Scheper-Hughes, UC Berkeley
Allan Young, McGill University
NYC 9/11 Participants
Rosemarie O'Keefe (Former Commissioner, NYC Mayor's Community Assistance Unit)
Richard Sheirer (Former NYC Director of Emergency Management)
POSTER SESSIONS
The conference program included poster sessions. We invited abstract submissions for presentation and inclusion in the abstracts booklet.
MORE INFORMATION:
Visit ptsdconference.org - The official website of the Trauma, Culture, and the Brain Conference.