FPR: Funding
The following are specific activities that the Foundation supports:
National Workshops:
An annual meeting, on the topical focus of the FPR, of Anthropologists, Psychologists and Neuroscientists with an interest in interdisciplinary collaboration and have been pursuing research at the interface of the Social and Brain Sciences.
The FPR held its inaugural workshop on June 28 - July 1, 2001 in Ojai, CA. Thirty-two distinguished participants were invited to the symposium and exchanged ideas on new research on culture - brain interactions.
The second FPR workshop on Brain, Mind and Culture was held on June 13-16, 2002 at the Ojai Valley Inn in Ojai. The main focus for this workshop was on Post Traumatic Stress Disorder.
The third FPR Workshop on Brain, Mind, and Culture was held on October 9-12, 2003 at The Lodge at Torrey Pines in La Jolla. The main focus for this workshop was on Trauma and early Relational Experiences, Social Contexts, and Developmental Trajectories.
International Workshops:
The 4th annual FPR Workshop took place on July 28-31, 2004, in Yogyakarta, Indonesia. The event, which was co-sponsored by the Department of Social Medicine, Harvard University, and the Center for Bioethics and Medical Humanities, Faculty of Medicine, Gadjah Mada University, was a training workshop for Indonesian professionals. This international collaboration is in response to a growing need for development of expertise in treating trauma-related disorders in specific cultural and social contexts. Entitled "Psychological Trauma: Integrating Biological, Clinical, and Sociocultural Approaches to Trauma's Effects," participants explored current understandings of the effects of psychosocial stress and trauma on brain, mind, culture, and Indonesian society. The program examined etiology, treatment, and the processes of healing and restoration, as well as the moral and emotional dimensions of social suffering and society's responses to trauma.
International Symposia:
There are international symposia at the end of three-year topical cycles, bringing together grantees of the Foundation, scholars and the general public with an interest in the topical focus. Our first symposium on Posttraumatic Stress Disorder was held in December 2002.
Proceedings of the Symposium, and the results of the grantee's research, will be published.
Conference Completed, Lauded a Success: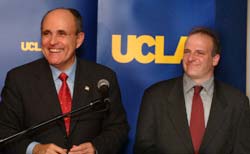 L-R: Rudolph Giuliani (Former New York City Mayor) & Robert Lemelson (President of The FPR; Departments of Psychology and Anthropology, UCLA)
Our first FPR-UCLA international conference entitled Post Traumatic Stress Disorder: Biological, Clinical and Cultural Approaches to Trauma's Effects was held December 12-15, 2002. As a collaborative project with the University of California at Los Angeles, the conference took place at UCLA. The conference was geared to academics and professionals in the applied mental health and public health and policy sectors, including anthropologists, sociologists, clinicians, clinical researchers, and neuroscientists, as well as the general public.
---
| | |
| --- | --- |
| | FUTURE CONFERENCE: January 22-24, 2010 |
Registration is now open
The Fourth FPR-UCLA Interdisciplinary Conference
Cultural and Biological Contexts of Psychiatric Disorder: Implications for Diagnosis and Treatment

January 22-24, 2010
Friday-Sunday
at University of California, Los Angeles
Download a conference flyer here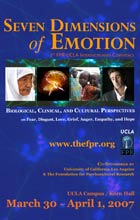 | | |
| --- | --- |
| | PAST CONFERENCE |
The Third FPR-UCLA Interdisciplinary Conference
Seven Dimensions of Emotion: Integrating Biological, Clinical, and Cultural Perspectives on Fear, Disgust, Love, Grief, Anger, Empathy, and Hope

March 30-April 1, 2007
Friday-Sunday
at University of California, Los Angeles
Download a conference flyer here.
This conference brings together specialists from different fields to discuss the implications of recent advances in emotion research in neurobiology, psychology, history, philosophy, and anthropology. It will particularly focus on seven emotions -- fear, disgust, love, grief, anger, empathy, and hope -- that are deeply embedded in human social life and cultural environments. Each of the emotion-themes will be illustrated by a case study drawn from laboratory experiments, neuroimaging studies, clinical case presentations, or fieldwork ethnography. The case study will serve as the basis of discussion by an interdisciplinary panel of leading researchers and scholars, with the goal of mapping biological research onto cultural realities (and vice versa).
For more information: http://www.thefpr.org/conference2007
---
The second FPR-UCLA interdisciplinary Conference:
"Four Dimensions of Childhood:
Brain, Mind, Culture, and Time"

February 11-13, 2005
Friday-Sunday
at University of California, Los Angeles

2005 Conference Flyer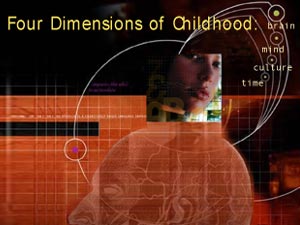 Presented by the Foundation for Psychocultural Research (FPR) and UCLA Graduate Division
Sponsored by UCLA Neuropsychiatric Institute in cooperation with the FPR and UCLA
With the support of National Institute of Child Health and Human Development (NICHD) and National Institute of Mental Health (NIMH)
The purpose of this 3-day conference is to explore the interaction of social experiences and neurobiology during childhood and adolescence and their mutual influence on resilience and mental well-being or vulnerability to psychopathology.
Specifically, we will look at early neural development, including sensory and behavioral plasticity; the culturally constructed environments of early childhood; the more complex experiences encountered in later childhood, including initiation rites, affiliative behavior, and competitive interactions; the clinical implications of early adverse experiences such as child maltreatment; and finally ethnopsychological and biocultural models for the study of resiliency.
The conference will bring together a multi-disciplinary group of internationally recognized researchers and scholars, representing the fields of anthropology, neuroethology, neurobiology, cognitive neuroscience, psychology, and psychiatry.
What makes this conference unique is the opportunity for participants to seriously engage each other's work through paper presentations, clinical and ethnographic case studies and roundtable discussions in order to present a many-faceted view of how childhood unfolds in time and space.


This is an activity offered by UCLA Neuropsychiatric Institute, a CMA-accredited provider.


---
The FPR Fellowship:
Note: The FPR Fellowship program is being restructured.
No Letters of Intent will be accepted for September 2009.
Postdoctoral RFP (PDF)
Postdoctoral Application (PDF)
A limited number of FPR Postdoctoral Fellowships for interdisciplinary research at the intersection of culture, psychology, neuroscience and psychiatry are available. Applicants should be eligible for holding a
postdoctoral appointment at UCLA
. Candidates must conduct their proposed research under primary and secondary sponsors who hold an academic appointment at UCLA. For interdisciplinary purpose, sponsors should come from different disciplines.
---
Publications:

Edited by:

Carol M. Worthman
Emory University, Atlanta

Paul M. Plotsky
Emory University, Atlanta

Daniel S. Schechter
Hôpitaux Universitaires de Genève

Constance A. Cummings
The Foundation for Psychocultural Research


---
BOOK IS NOW AVAILABLE:

Understanding Trauma:
Integrating Biological, Clinical, and Cultural Perspectives

Edited by:

Laurence Kirmayer
McGill University, Montréal

Robert Lemelson
University of California, Los Angeles
Foundation for Psychocultural Research

Mark Barad
University of California, Los Angeles



Cambridge University Press
Table of Contents
This book analyzes the individual and collective experience of and response to trauma from a wide range of perspectives including basic neuroscience, clinical science, and cultural anthropology. Each perspective presents critical and creative challenges to the other. The first section reviews the effects of early life stress on the development of neural systems and vulnerability to persistent effects of trauma. The second section of the book reviews a wide range of clinical approaches to the treatment of the effects of trauma. The final section of the book presents cultural analyses of personal, social, and political responses to massive trauma and genocidal events in a variety of societies. This work goes well beyond the neurobiological models of conditioned fear and clinical syndrome of post-traumatic stress disorder to examine how massive traumatic events affect the whole fabric of a society, calling forth collective responses of resilience and moral transformation.
Interdisciplinarity - presents neurobiological, clinical and cultural perspectives
Multi-level analysis - focuses on severe forms of trauma occurring within different contexts
International in scope - chapters in both the clinical and cultural sections cover Indonesia, southeastern Asia and Africa, as well as North America
Book Reviews
"[the editors' ]... introduction neatly summarizes the challenges inherent in interdisciplinary integration." --- Sandra L. Bloom, MD, April 2008, Book Review, Psychiatric Services, 59, 449, a journal of the American Psychiatric Association (click here to read the full Psychiatric Services review)
"Clinicians working with clients from diverse cultural backgrounds are likely to find material in this volume to be particularly helpful."--- Sandra L. Bloom, MD, April 2008, Book Review, Psychiatric Services, 59, 449, a journal of the American Psychiatric Association (click here to read the full Psychiatric Services review)
"Understanding Trauma is an important book. Its multidisciplinary, multicultural perspectives will benefit a wide audience. It explains the complexity of trauma so eloquently that readers will see the dots begin to connect. Its successful integration of multidisciplinary research ... takes the study of trauma to the next level." – PsycCRITIQUES
This book is a must read for anyone seriously interested in the predisposition, cause, course, treatment, and outcome prognosis for people experiencing trauma and post trauma consequences... The authors have created a state-of-the-art review that is fascinating, informative, and extremely useful to all concerned with understanding trauma and its effect on all of our lives. - Murray A. Brown, MD Clinical professor, Department of Psychiatry and Biobehavioral, Sciences, David Geffen School of Medicine at UCLA, Director, UCLA/San Fernando Valley Psychiatry Residency Training Program.
"One striking feature of this presentation is the authors' awareness of each other's research. They reference each other effectively...Reading this book, one cannot help but wonder if the future of research in so many fields will depend on how well we gather scholars from different disciplines...The authors should be commended for covering an extensive territory." Robert and Colleen Furey, PsycCRITIQUES
---
Upcoming in December 2009
Formative Experiences:
The Interaction of Caregiving, Culture, and Developmental Psychobiology

Edited by:

Carol M. Worthman
Emory University, Atlanta

Paul M. Plotsky
Emory University, Atlanta

Daniel S. Schechter
Hôpitaux Universitaires de Genève

Constance A. Cummings
The Foundation for Psychocultural Research


Cambridge University Press
List of Confirmed Contributors
This interdisciplinary book presents the latest research on the formative effects of children's early life experiences in a single work, with an emphasis on neurodevelopmental, behavioral, and cultural dynamics. It draws on insights from psychobiological, clinical, and cross-cultural research that map the robustness of these developmental dynamics across species and societies. Finally, it translates insights from this work into a fresh appraisal of child-rearing practices, clinical interventions, and public health policy that affect the mental health and well-being of children around the world. The book's interdisciplinary approach illuminates the complexities of development and illustrates how diverse disciplines interested in a cross-cutting theme can critically and creatively challenge one another in order to expand and deepen understanding. It should be of interest to a broad spectrum of readers, including basic and clinical neuroscientists, psychiatrists, psychologists, anthropologists, sociologists, historians, public health and policy experts, social workers, and other researchers and scholars.
This book is organized around five main sections, with a mix of research papers and case studies emphasizing normal developmental and clinical issues. Section 1 places the interdisciplinary approach to childhood in a broader cultural-historical context. Section 2 describes how experience interacts with biological development in early life. Section 3 addresses the significance of formative relationships within and across generations. Section 4 focuses on the significance of social and cultural contexts for children's normative social development. Section 5 describes the outer boundaries of normative social experiences in childhood – namely, rough and tumble play, teasing, bullying, and structural violence, as well as the recent trend to manage behavior pharmacologically. Finally, Section 6 addresses public health, education, and policy implications. The book includes 8 case studies from the lab, field, and clinic. The case studies and added commentary support multidisciplinary discussions of these concrete, real-world exemplars, ensuring a diversity of contexts, observations, and perspectives pertaining to the relevant section's theme.
With contributions by Eileen Anderson-Fye, Ronald Barr, Emily Barrett, Anne Becker, Ursula Bellugi, Marc Bornstein, Jean Briggs, Stefan Brunnhuber, Amy Busch, Flavia Bustreo, Dante Cicchetti, Michael De Bellis, Hillary Fouts, Vivette Glover, Neal Halfon, Geoff Hall, Christine Heim, Gilbert Herdt, Jonathan Hill, Kim Huhman, Myron Hofer, Aaron Jasnow, Jaap Koolhaas, Jill Korbin, Alice Kuo, Robert Lemelson, Robert LeVine, Alicia Lieberman, Dario Maestripieri, Emeran Mayer, Kai McCormack, Klaus Minde, Urs Nater, Emily Ng, Matilda Nowakowski, Jaak Panksepp, Sergio Pellis, Vivien Pellis, Frank Putnam, Keren Rabi, Judy Reilly, Christine Reinhart, Jennifer Requejo, Kerry Ressler, Linda Richter, M. Mar Sanchez, Robert Sapolsky, Daniel Schechter, Louis Schmidt, Sally Seraphin, Ninik Supartini, Moshe Szyf, Martin Teicher, Thomas Weisner, Christoph Wiedenmayer, James Wilce, and Carol Zitzer-Comfort.
Carol M. Worthman, PhD is the Samuel Candler Dobbs Professor in the Department of Anthropology and director of the Laboratory for Comparative Human Biology at Emory University.
Paul Plotsky, PhD is the GlaxoSmithKline Professor in the Department of Psychiatry and Behavioral Sciences and director of the Stress Neurobiology Laboratory at Emory University.
Daniel Schechter, MD is Chief of the Pediatric Consult-Liaison Unit and Parent-Infant Research, Department of Child and Adolescent Psychiatry, University Hospitals of Geneva, and is Adjunct Assistant Professor of Psychiatry in the Division of Developmental Neuroscience, Columbia University College of Physicians & Surgeons, and Director of Research, Child Division, Columbia University Center for Psychoanalytic Training & Research.
Constance Cummings, PhD, is project director at the Foundation for Psychocultural Research.
Other Release:
Dr. Robert Jay Lifton (2003)
Superpower Syndrome: America's Apocalyptic Confrontation with the World
New York: Thunder's Mouth Press/ Nations Books.
ISBN 1-56025-512-9
---
The Foundation for Psychocultural Research makes grants only to pre-selected educational organizations, and to graduate fellows through the FPR postdoctoral fellowship. The FPR does not accept unsolicited requests for funding support.